Abbvie stock analysis and outlook
Written by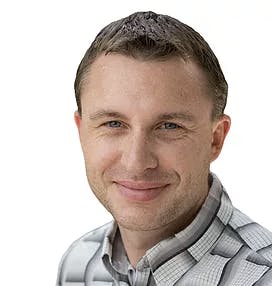 Jan K.
Published on
8th November 2021
AbbVie is a biopharmaceutical company engaged in drug research and development in areas such as immunology and oncology. The pharmaceutical industry is tough and complex – full of drugs patent expirations, lawsuits, mergers & acquisitions, and investment in research and development. 
AbbVie found its way how to swim in this pool being one of the largest pharma companies currently ranked as #5 based on market capitalization. There's much more to like than just company size. AbbVie sells Humira, the bestselling drug in the world, which treats rheumatoid arthritis.
Business overview
The company was created as a spin-off from Abbott in 2013 based on this simple strategy – Abbot as a diversified medical products company, AbbVie as a new researched-based global biopharmaceutical company. The main mission was from the beginning of existence to find a way how to run the business once Humira´s patent expires. In 2013 Humira generated 95 % of total sales.
Management bet on acquisitions as well as investment into research & development. The largest acquisition target was Allergan which was completed in 2020. This $63 billion deal significantly expanded and diversified AbbVie's revenue base and complemented existing leadership positions in immunology. It brought new segments for Abbvie such as aesthetics, neuroscience, eye care or women´s health, with Botox as one the most familiar name.
Mitigation of Humira is successfully driven mostly by Imbuvica, while there are promising new launches: Skyrizi and Rinvoq.
Currently, AbbVie sales split look like this:
immunology 48%
oncology 14%
neuroscience 11%
aesthetics 8%
eye care and women's health 8%
other (hepatitis) 10%
Humira is still the key brand in Abbvie´s portfolio.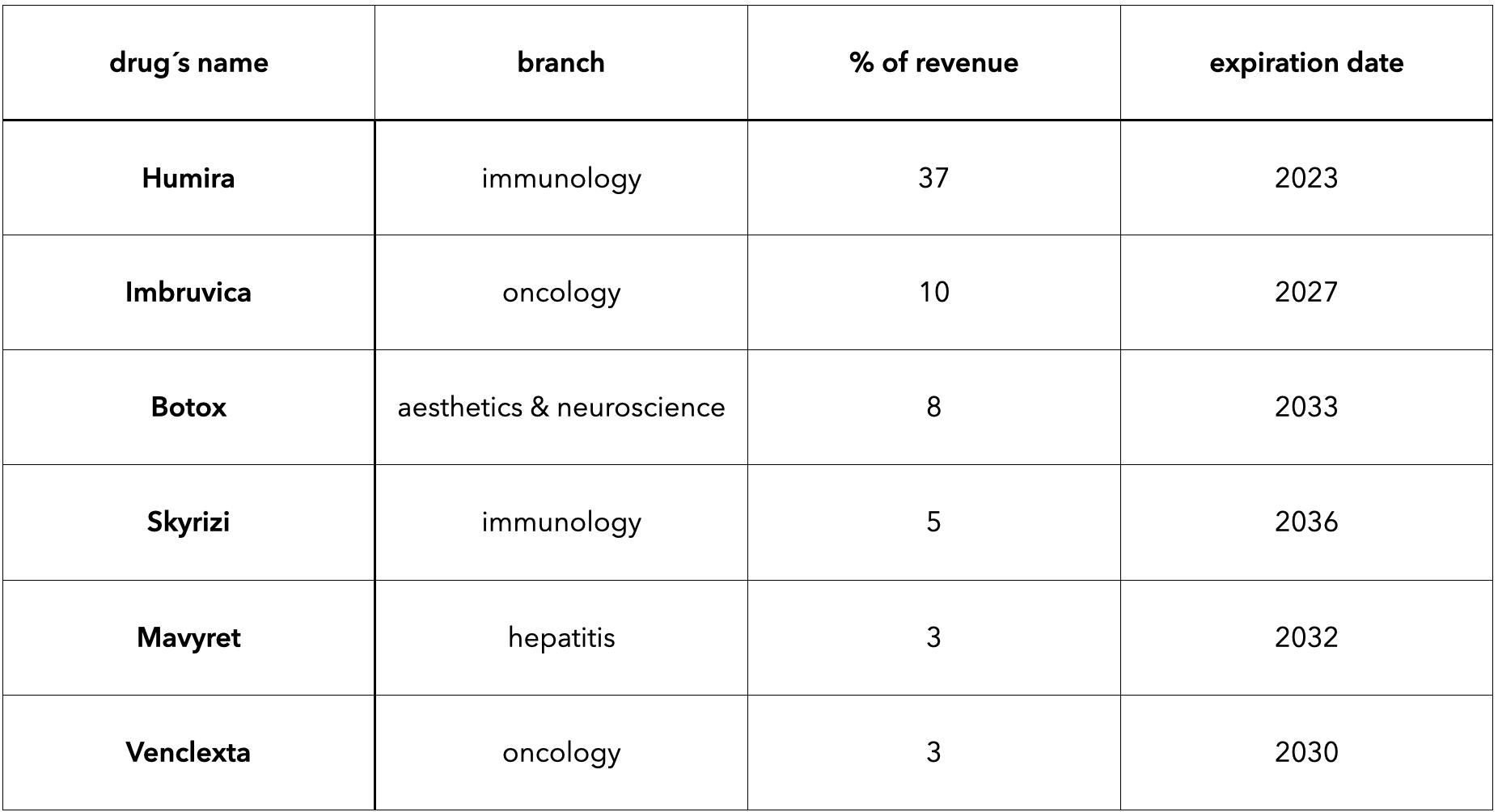 Stunning revenue and dividend growth!
Management did a great job not only in portfolio diversification but also in the reward of shareholders. Revenue grew from $20 bn (2014) to the current trailing twelve months of $55 bn. That´s 16% CAGR over the last 7 years.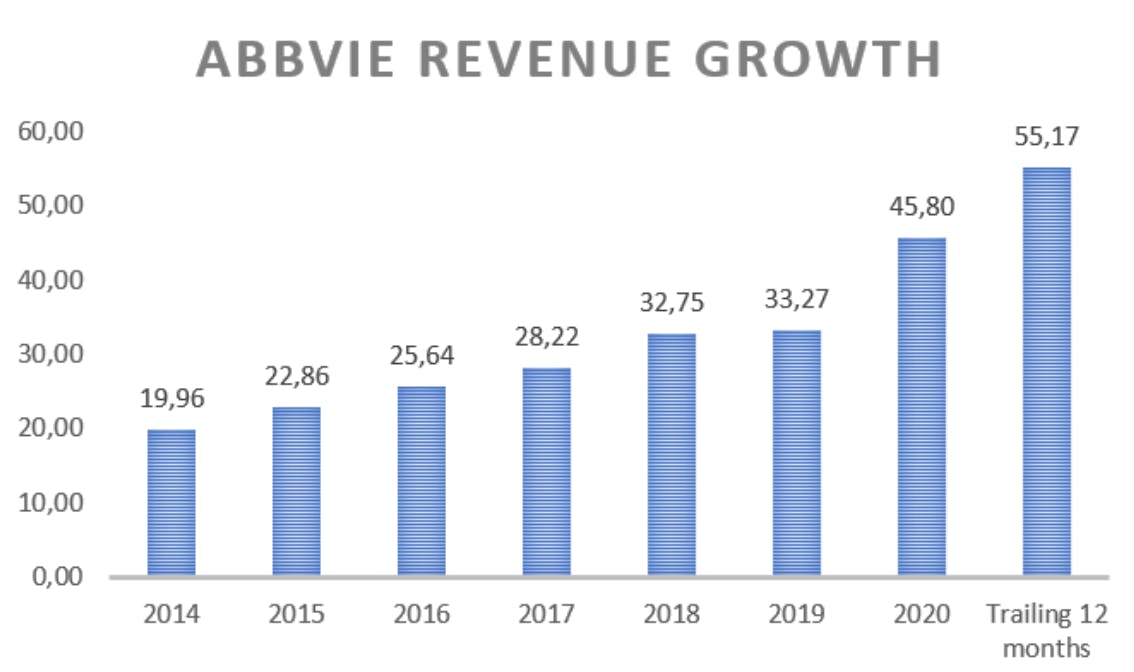 AbbVie is a dividend king (incl. history with Abbott) and has had outstanding dividend growth since the spin-off. Over the last five years, it grew dividend by 20% per year, while the latest dividend increase for 2022 is at 9%.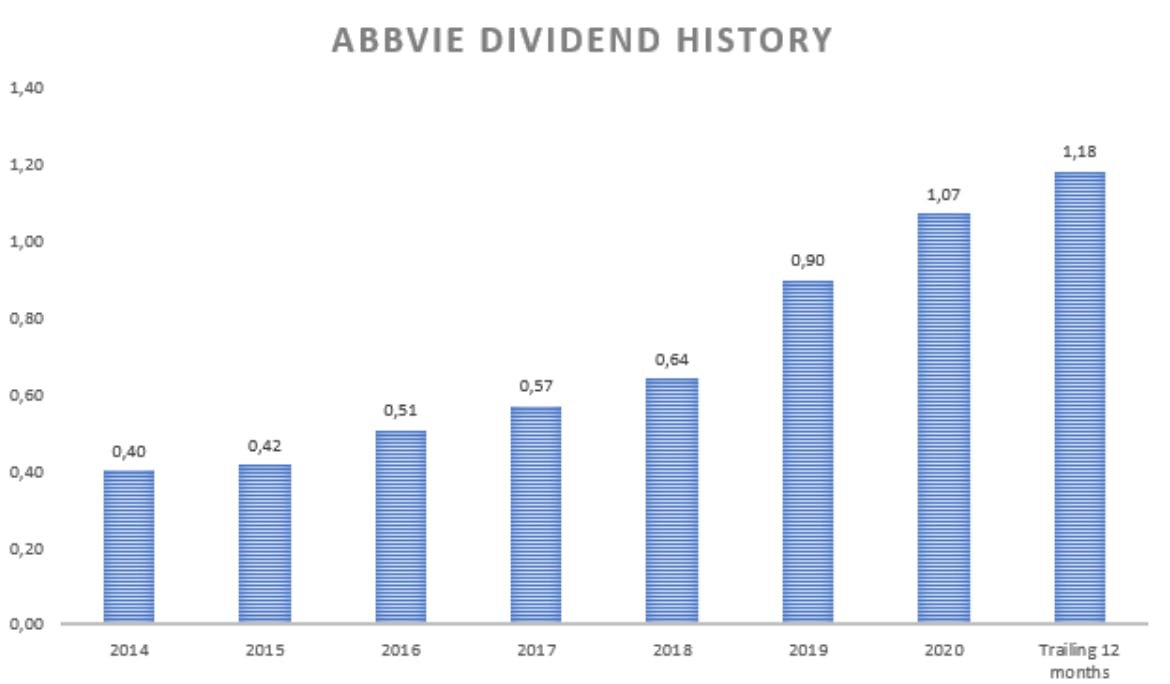 Richard A. Gonzalez, AbbVie's chairman, stated
"As noted in our news release, today, we are announcing an 8.5% increase in our quarterly cash dividend, from a $1.30 per share to a $1.41 per share, beginning with the dividend payable in February 2022. Since our inception, we´ve grown our quarterly dividend by more than 250%."
Really impressive numbers for dividend growth investors.
It's worth mentioning that with this dividend increase Abbvie still has a dividend payout ratio of 45% (if used adjusted P/E) and 47% using free cash flow.
Latest results
The company also posted strong results lately.
YTD Q3 2021 comparable revenue grew +12%, adjusted earnings per share are +23%. Humira still growing +4,6% (+8% US vs. -14% international) while the growth is more driven by Skyrizi, Rinvoq, and "Allergan" portfolio of Aesthetics and Neuroscience which was heavily influenced by the postponement of aesthetic procedures in 2020.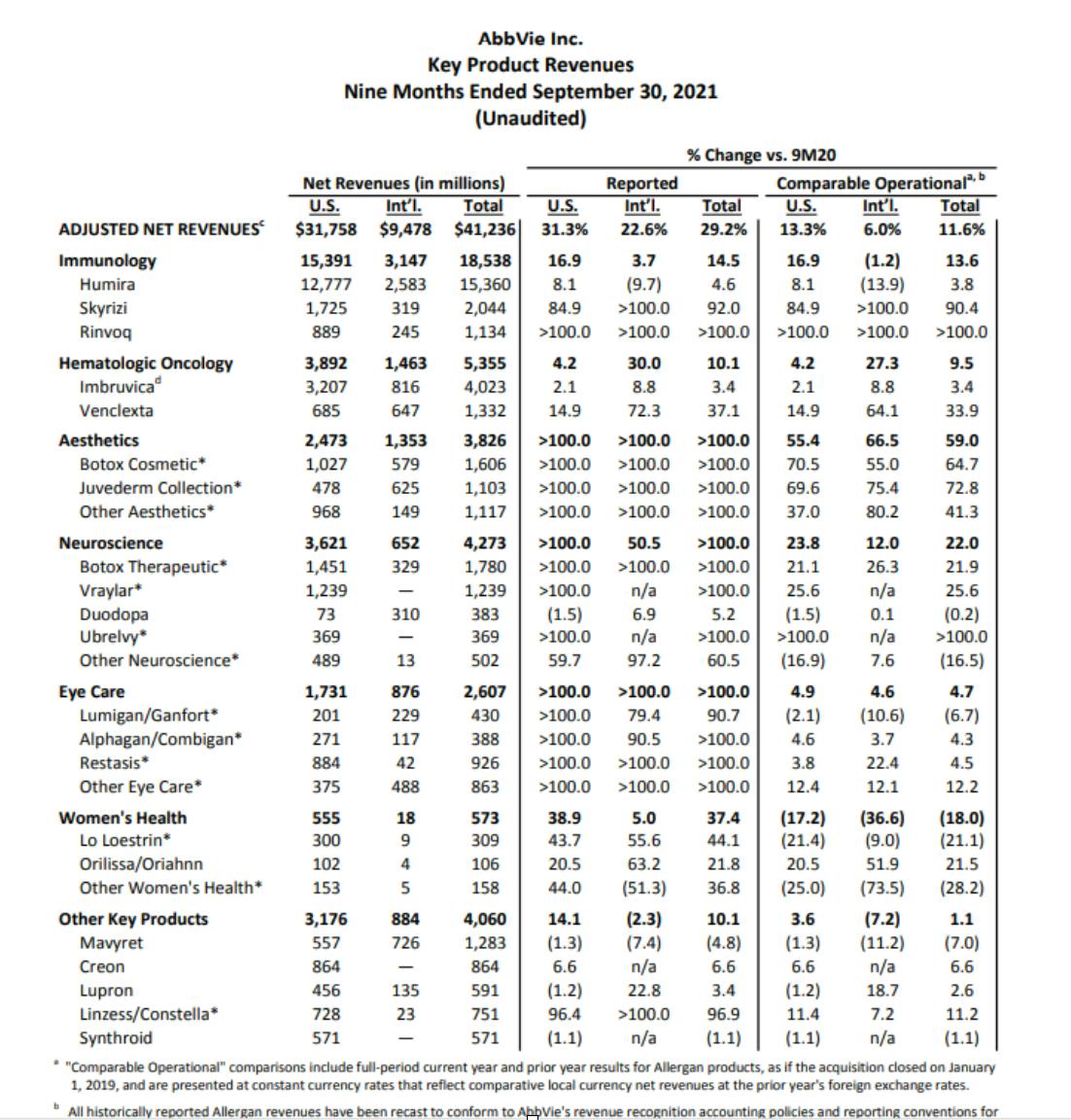 Source: Abbvie press release
Strategy
As stated, the key target is portfolio diversification, which is still very dependent on Humira. There are two main directions, how to achieve this:
R&D annual spending over $5 billion & strategic acquisitions
- growth of successful drugs Imbruvica and Venclexta and support for new drugs such as Skyrizi and Rinvoq
-strategic acquisitions – particularly the successful integration of Allergan acquisition, recently announced the acquisition of Solition for $550 million
Effectively manage the decline in international sales of Humira and patent expiration in the US. In 2025 Humira is expected to make up 25% of revenue (vs. 95% in 2013)
Risks
Humira still accounts for 37% of revenue and the patent in the US will expire in 2023, the company announced that it expects a decline in total revenue in 2023 and expected to return to growth in 2024. So dividend growth might slow down a bit.
Management plan to mitigate Humira decline with Rinvoq got obstacle with labeling. Rinvoq (3% of sales in the last quarter) will receive a new warning label that may potentially increase the risk of blood clots or death. Rinvoq is expected to help replace Humira (expected to make 7% of sales in 2025). Shares fell -7% immediately after the announcement. 
Allergan's acquisition helped diversify its portfolio, however, due to coronavirus, the division's revenue declined and there were accounting write-downs, debt is declining, but it is still over 4x EBITDA. With above mentioned Humira expiration and debt load, the company will also need to deleverage which can influence future dividends
Acquisitions are quite common in the pharmaceutical industry, so companies and management teams have experience. However, this does not mean that all acquisitions are successful. Abbvie has already written of more than 50% of its Stemcentrx acquisition in 2016 and Allergan was already impacted by write-offs due to performance in 2020. 
The last significant risk is common for the whole pharmaceutical industry - long, the complex and expensive approval process for a new drug. These companies invest a lot in R&D, had declared promising pipelines, while it should be mentioned that over 90% of projects fail. So the successful ones must also fund these failures.
There´s also increased pressure from the government about drug prices as healthcare spending as % of GPD is continuously growing.
Summary
Since the spin-off in 2013, Abbvie´s mission is to replace Humira after patent expiration. The company has done a good job in diversification through acquisitions, as well as research and development last 7 years. It has also managed to grow very fast dividends and share prices as well. 
The company is posting better results every quarter and gurus like Warren Buffett also bought this company.
While there are still concerns about the future, this dividend king with a high 4.9% yield with 4.9% dividend yield and 8.5 forward P/E looks undervalued and very appealing, especially for investors who have slightly higher risk tolerance.
Disclaimer: I am long at ABBV. This article is only for educational purpose. Don´t buy of sell stock based solely on above mentioned information. Investment in securities carries risks.